September 26, 2008
The Gist has been on a field trip in New York City this week, taking culinary detours into Italy, Korea, Lebanon, Ireland and the Sichuan province of China.
The Grand Sichuan International in Chinatown is a living-room-sized restaurant with an invisible kitchen, a dozen tables, and a soft-drink cooler wedged against one wall. Grand or not, it's where I learned the meaning of ma la, the Chinese name for a soup made of dried chilies and Sichuan pepper. It arrived as a steaming tureen, set before us on a portable gas burner and filled with a bright-red bubbling liquid. Crispy dried chilies – perhaps 40 of them – bobbed in the waves like radioactive minnows, and we eventually fished them out to keep the soup from getting any hotter.
But the real draw were the small woody flecks of Sichuan pepper floating in the broth. At first, these gave the soup a random and alarming crunchiness. But moments later the taste developed into a citrusy buzzing and tingling over my mouth and tongue. As it went on, the feeling almost perfectly balanced the heat from the chilies, mellowing it and sweetening it in waves that sloshed across my mouth. That's ma la: "numbing hot."
The nearest equivalent is the tingling you get from eating orange or lemon zest (or perhaps, the weird taste/sense as your tongue comes back to life at the dentist's). But for me, the sensation brought back precisely a visit to a south Georgia barrier island some 15 years ago. I had searched the back dunes for a tree in the genus Zanthoxylum. Sometimes called "toothache tree," the leaves are supposed to make your mouth go numb. When I found it, it was a short, stout tree covered with immense thorns and sporting leathery dark-green leaves. At the time I was disappointed that my mouth didn't go completely numb, but the sensation was identical to the lemony fizz of my Sichuan hot pot.
Back home, a little reading turned up why. Sichuan peppercorns (or huajiao) are the dried seed husks of a few Asian species of Zanthoxylum (one of many neat botanical holdovers from the days before the Atlantic Ocean stood between Eurasia and North America).
Fortunately for us, ma la and Sichuan pepper have not escaped the notice of chemists, and a 1999 paper in Brain Research suggests why the spice can make our tongues feel so many things at once. The lemony taste and tingling sensations come from a half-dozen volatile oils, the most peculiar being something called hydroxy-alpha-sanshool. When scientists tested this compound (on rats), they found it activated several different classes of neurons, including touch-sensitive, cool-sensitive, and cold-sensitive receptors.
Sichuan pepper is in the citrus family and is unrelated to white, black, or red peppers. Importing the spice to the U.S. only became legal in 2005 after fears eased about its potential for transporting a citrus disease. So, if I arm myself with some Zanthoxylum berries and the right cookbook, might I be able to recreate my hot pot – and make my taste buds do back flips again? After my nose stops running, I'm going to try.
(Image: the toothache tree of North America, Zanthoxylum clava-herculis; amyb/Flickr)
« Mistakenidentosaurus Becoming a Thing of the Past | Argentine Dinosaur Had Birdy Lungs »
June 19, 2008
It's called astrobiology: the idea that life emerged somewhere in the cold reaches of space, and only made it to Earth belatedly, after stowing away on a meteorite or comet. It sounds far-fetched, but astronomers have a growing body of evidence that supports the idea. They added another piece this week, in the journal Earth and Planetary Science Letters.***
And after all, say the astrobiologists, life had to originate somewhere. Reassuringly, their leading proposals involve scenarios considerably more humble than standard Hollywood images of luminous humanoids arriving in gleaming steel cylinders.
In this week's finding, scientists isolated from an Australian meteorite two molecules called uracil and xanthine, each of which consists of 12-15 atoms of carbon, oxygen, nitrogen, and hydrogen.  (The carbon in the samples differed in makeup from what's found on Earth, indicating the find wasn't the result of contamination once the meteorite landed.)
The find suggests that somewhere out in space conditions are right for such complicated molecules to form spontaneously. Even more exciting, uracil and xanthine are precursors of two pivotal molecules in living organisms, RNA and DNA. The way astrobiologists interpret this, life may not have zapped into existence in a single, unique flash in some earthbound primordial soup after all (which was the way I learned it in school).
Rather, the building blocks may form, en masse, in cold interstellar factories, and then perhaps travel the cosmos on the backs of comets, waiting for a crash landing. Like little starter kits.
(Image: Bill Saxton, National Radio Astronomy Observatory/National Science Foundation)
***Fascinated (or skeptical)? Read about some more pieces of evidence here, here, or in the captioned version of the above picture, here.
« Leatherback Sea Turtle Returns to Texas | You Are Better Than Economists Think »
February 28, 2008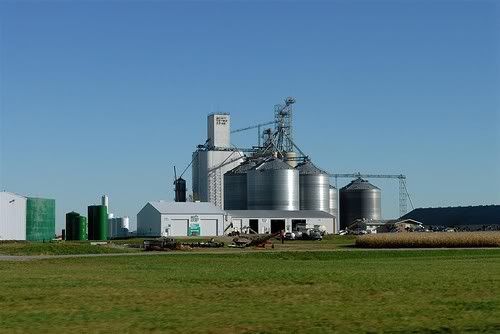 Politicians, journalists, even scientists love to talk about the "promise of biofuels." But a thorough news feature in last week's Nature reveals just how empty that promise may be.
Shown above is a Midwestern plant in which corn starch is turned into ethanol. Global ethanol production hit 13.2 billion gallons in 2007, more than double the production four years before. In the U.S., almost a quarter of all corn production now goes toward making ethanol. But, as Jeff Tollefson points out in the Nature piece, the agricultural techniques used for ethanol's production "often damage the environment on a scale that far outweighs any good achieved through the biofuels' use."
Enter "second-generation" biofuels made from trees and grasses, which are cheaper and most sustainable raw materials than corn. A big push in the industry right now, according to Tollefson, is turning cellulose (from the cell walls of plants) into fuel. But there's a big catch to that approach, too:
The fly in this ointment is that the world cannot yet boast a single commercial-scale cellulosic-ethanol facility. Breaking cellulose down into sugars is not easy work, and can use up a lot of energy; what's more, not all the sugars produced are easily fermented.
Even if bioengineers successfully tinkered with those chemical processes, and even if they created a crop that could be an ample source of the cellulose, they'd still need to figure out how it could could all be done on a large scale. With all of the roadblocks, Tollefson argues that biofuels "will never take over the whole liquid-fuel market, let alone amount to a large proportion of total energy use."
The best option, he concludes, would be to increase our fuel efficiency:
In the same law that expanded the ethanol mandate, Congress also increased the fuel-efficiency requirements for vehicles by 40%…And as Ingram points out, "If we increase gas mileage by 1 mile per gallon, that is about equal to all the ethanol we are making right now from corn.â€?
(Flickr, by fredthompson)
« Are Pythons Coming to Your Neighborhood? | That's a Lot of Turtle Soup »